Effective Neck Pain Treatment With Lee Miller Rehabilitation Associates
Find Neck Pain Relief Today
Lee Miller Rehab Associates provides unmatched physical therapy and outpatient rehabilitation services to residents of Catonsville and Owings Mills, Maryland. Our highly-trained, board-certified physical therapists have over 15 years of experience treating neck pain, injuries, and other conditions, allowing patients to return to their day-to-day activities quickly and without pain. No matter if you've recently sustained a neck injury in a car accident, or you're recovering from a surgical procedure, we're here to help you recover.
Our team of experts have continually served the Catonsville and Owings Mill areas with kindness, integrity, and a commitment to patient education. Our goal is to improve your neck health through careful assessment and rehabilitation, while also offering sound advice and recommendations you can use when you're not in our office. Whether you're trying to get back to work, play in an upcoming sports tournament, or enjoy your favorite hobby again, we have the expertise, tools, and passion necessary to make sure you can take on any physical challenge.
With Lee Miller Rehab, you can expect:
• A Thorough Evaluation and Customized Treatment Plan
Our staff will conduct a comprehensive examination, diving into your history, past injuries, underlying causes, age, and your current physical condition to make sure all factors are taken into consideration before diagnosis and tailored treatment.
• Board-Certified Physical Therapists
Lee Miller Rehab Associates employs the area's most experienced and distinguished physical therapists with a passion for healing patients and improving quality of life.
• Two Convenient Locations
We have two separate locations to make your visits as convenient as possible! You can find one of our offices in both Catonsville and Owings Mills, MD.
Our Neck Pain Treatment Options
At Lee Miller Rehab, we want you to feel like yourself again, without having to rely on multiple prescription medications or surgical interventions.
With chronic neck pain, we strive to pinpoint the root cause and work to eliminate it through different techniques. Patients with neck injuries can also benefit from our treatment options, as we can utilize different flexibility, strengthening, and conditioning exercises post-injury to provide relief and promote proper healing.
Our physical therapists offer the following neck pain treatments to patients of all ages and conditions: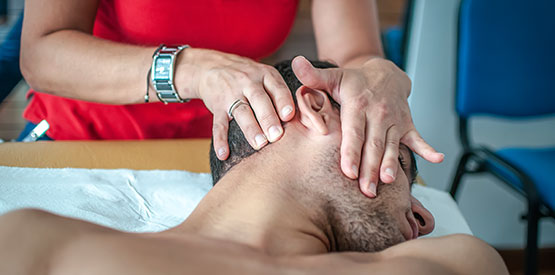 Physical Therapy for Neck Pain and Injuries
Lee Miller Rehabilitation focuses on providing non-invasive means of treatment for patients struggling with neck pain or an injury. Our trained physical therapists have a thorough understanding of human anatomy, allowing them to help recover functionality, improve range of motion, and eliminate or reduce pain in the neck area.
We use different types of equipment, therapies, and modalities to help your body heal. Depending on your specific condition, we may use manual therapy methods such as dry needling, myofascial release, joint mobilization, massage therapy, and strain-counterstrain exercises using free weights and resistance bands. With Lee Miller Rehab, you'll receive a personalied physical therapy treatment plan that best suits you.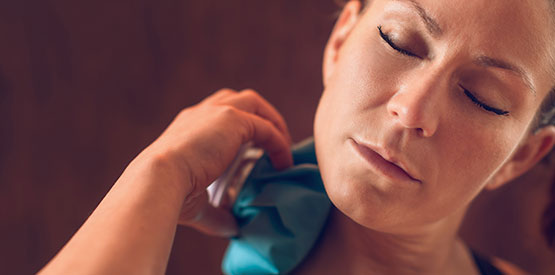 Pain Management Therapy to Relieve Neck Pain
Countless people worldwide live with chronic, crippling neck pain. Instead of pushing opioids and pain medications that don't fix the root of the problem, our team concentrates on providing pain management therapy that alleviates neck pain and heals injuries safely and naturally.
We use various therapeutic techniques to treat your pain, including heat and ice application, low impact aerobic exercises, an assortment of strengthening exercises, massage therapy, dry needling methods, stretching routines, manual therapies, and education for patients to continue at-home treatment. Our tailored pain management plans will help you return to the life you love, one without debilitating neck pain!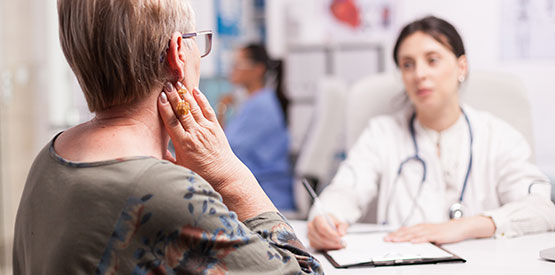 Pre and Post-Surgical Rehabilitation for the Neck
Rehab before and after a surgical procedure plays a critical role in your overall recovery. If you're getting ready for neck surgery, pre-surgical rehabilitation can help you physically and mentally prepare for the procedure and get your body used to the exercises you'll perform post-surgery.
After surgery, it's crucial that you focus on improving muscle strength and regaining flexibility in your neck region. Our physical therapists understand the most effective exercises and manual techniques that reduce pain and inflammation. With the help of the team at Lee Miller Rehab, you can rest assured that your recuperation period will be as quick as possible.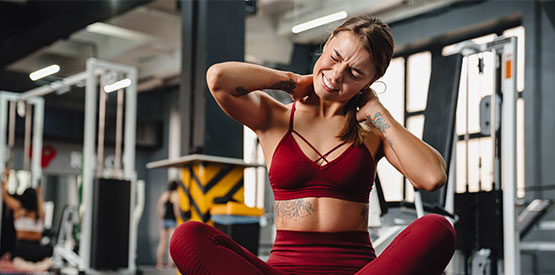 Sports Physical Therapy for Sports-Related Neck Injuries
Injuries happen frequently in sports, whether it's a sprain, strain, or fracture. Athletes and weekend warriors may experience a neck injury at some point during their game or match, especially if they participate in contact sports.
Thankfully, Lee Miller Rehab offers sports physical therapy services designed specifically for all the runners, basketball players, football players, tennis players, and other competitors out on the field or court. You can find comfort knowing you'll be back in the game in no time after visiting one of our physical therapists. We offer manual therapy, exercise training, and posture and balance training to not only help your neck heal but to improve your performance and prevent future injuries.
Frequently Asked Questions About Neck Pain
Should Ask Questions About Neck Pain
It's important to keep track of how you're feeling when you start to notice pain in your neck. This way, your doctor can better understand what you're experiencing and offer advice accordingly. Here are a few questions you should ask yourself before your appointment:
Live Pain-Free With Professional Physical Therapy and Pain Management
Are you sick of that pain in your neck? Have you tried everything, but nothing seems to work? You don't have to live with your neck pain another day. If you live in the Owings Mills or Catonsville, MD areas and are plagued by neck pain or injury, Lee Miller Rehab is here for you. Contact the location that's closest to you for neck pain treatment Owings Mills or neck pain treatment Catonsville and start your journey to a pain-free life. Request an appointment online or call one of our offices at the numbers listed below.