Bike Fit
Why Bike Fit?
Do you have knee, low back, neck or buttock pain while riding your bicycle? Do you experience hand, foot or groin numbness? Would you like to perform better on rides and have more fun? Whether you are an elite cyclist, an occasional rider or somewhere in between, a Bike Fit can reduce or eliminate pain and numbness, improve performance, prevent injury and increase enjoyment while riding. Bike Fit is not choosing the right bike size. Bike Fit is altering the bike to fit the cyclist's unique body characteristics, riding style and bicycle type for maximal comfort and efficiency.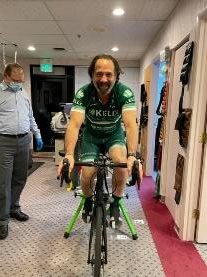 A good Bike Fit includes measuring and adjusting:
Foot
Knee,
Shoulder, elbow and wrist positions.
Foot/Cleat Position
Forward/backward position of the cleat on the bicycle shoe is assessed and adjusted to position the foot properly in relation to the pedal spindle. Side to side, rotation and angular orientation of the foot are assessed and adjusted to achieve good biomechanical position of the legs during pedaling, which reduces stress on the hips, knees, ankles and feet.
Knee Extension and Knee Over Pedal Spindle (KOPS)
Saddle height and fore/aft positions are adjusted to achieve optimal knee position to reduce knee joint stress and improve power transfer to the pedals.Saddle tilt is generally placed level with the ground to prevent back pain and reduce nerve pressure. Saddle size and shape starts with measuring your sit bones and plays an important role in comfort on the bike.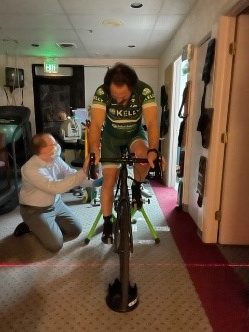 Shoulder, Elbow and Wrist Positions
Shoulder, elbow and wrist positions are adjusted to balance comfort and performance relative to each rider's goals, bicycling style and body characteristics. For example, an endurance riding position might place the shoulders at 90 degrees, elbows at 15 degrees and wrists in handshake neutral while on the hoods.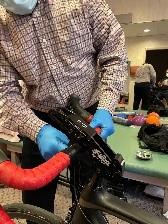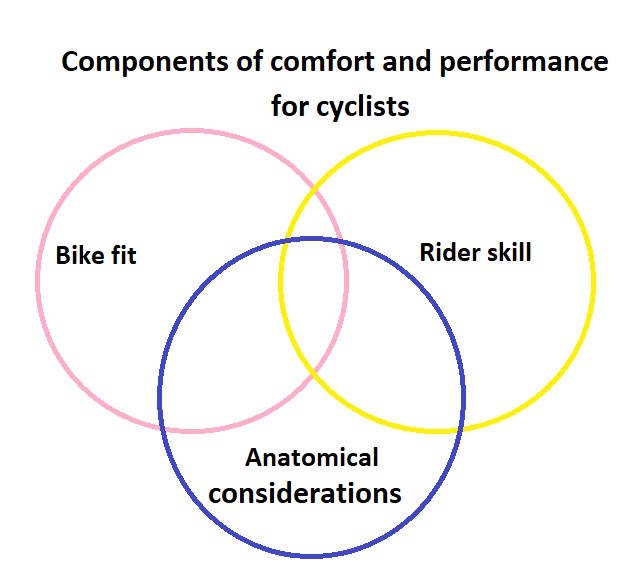 What is unique about Physical Therapy Bike Fit?
At Lee Miller Rehabilitation Associates our Certified Bike Fitters are Doctors of Physical Therapy who are skilled in assessing the complex relationships between your position on the bike, strength, flexibility and postural deficits and riding technique. We are able to make changes to your position on the bicycle and establish an exercise program to best balance injury prevention, aerodynamics, comfort and performance.
Physical Therapy including Bike Fit may be covered by your health insurance. We are happy to check health insurance benefits for you. Private pay rates are $200 for the first hour and $100 per hour for follow up sessions. Bike Fits take 3 hours on average. A series of one hour sessions are scheduled overtime to allow for accommodation to new Bike Fit and exercise program between visits. Our goal is for you to feel benefits right away and continue to feel them every time you ride.
References